Part 2 – Tell Me More About Bourbon
Bourbon is a beautiful blend of colors, smells and tastes.
Bourbon is a beautiful blend of colors, smells and tastes.  Darker Bourbon is older whiskey with higher proof.  As the whiskey ages in its barrel, it takes on a darker brown color.  When water is added to whiskey to lower its alcohol content, the whiskey will take on a lighter color.
The aroma and taste of Bourbon tend to be very subjective in nature. However, there is one flavor that should always be found in straight Bourbon (aged two years), and that flavor is caramel. The charred oak barrels imparts caramel and vanilla in every Bourbon. Expert Bourbon tasters try to associate the flavors in Bourbon with favorite everyday spices and aromas such as caramels, vanillas, grains, fruits, flowers and spices.
In his book Bourbon Curious:  A Simple Tasting Guide for the Savvy Drinker (Zenith Press, 2015), Fred Minnick divides Bourbons into several categories based on what he interprets to be the lead flavor and provides examples of each type.  These categories include Grain-forward Bourbons (Hudson Baby Bourbon, MBR Kentucky Bourbon Whiskey, FEW Bourbon Whiskey), Nutmeg-forward Bourbons (Angel's Envy, Jefferson's Ocean, Elijah Craig, Evans Williams, Willett, Buffalo Trace, Eagle Rare, Jim Beam, Booker's), Caramel-forward Bourbons (Maker's Mark, Weller, Mitcher's, Woodford Reserve), Cinnamon-forward Bourbons (Maker's 46, Blanton's, Bulleit Bourbon, 1792, Knob Creek, Wild Turkey, Four Roses), and select limited editions and special releases (Pappy Van Winkle, Elijah Craig 21-Year-Old, Four Roses Limited Edition Single Barrel, Wild Turkey Master's Keep).
In the end, you need to try different Bourbons to find the distillers and brands that you enjoy the most.  And it is important to remember, that Bourbon is not meant to be downed in one gulp like a cowboy in an old Western movie.  No, Bourbon is to be slowly savored, enjoyed and appreciated much like a glorious autumn sunset or a beautiful woman in a fine dress.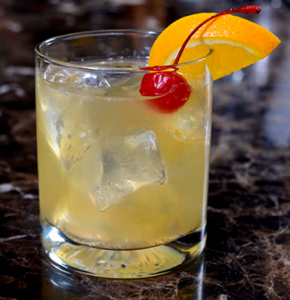 Whiskey Sour
2 oz. Bourbon
¾ oz. simple syrup
¾ oz. fresh squeezed lemon juice
1 egg white
3 dashes of Angostura bitters