There is something you expect from your legal counsel more than anything else. And that's the results that only expertise can provide.
Our clients choose the Law Offices of Thomas J. Skinner, IV, LLC, because they believe our firm has the expertise, experience and service to get results they need.
We invite you to review a few of the outcomes our attorneys have put on the map for our clients. Because when it comes to results, our work speaks for itself. We want to speak with you about how our expertise can produce the results you need.
Services
The Law Offices of Thomas J. Skinner, IV, LLC, is a civil litigation firm in Birmingham, Alabama, serving clients in all State and Federal Courts in Alabama.
The attorneys and staff of The Law Offices of Thomas J. Skinner, IV, LLC specialize in:
Real Estate and Title Insurance Law
Quiet Title Actions, Contracts, Tax Sales & Redemption Law
General Civil Litigation
Business Law and Business Entities including Corporations and LL's
Estate Planning, Trusts, and Probate Matters including Wills and Powers of Attorney
Our firm has produced results for a wide range of clients, including:
Individuals
Small Businesses
Real Estate Companies and other Business Entities
Title Insurance Companies
Our Mission
We provide exceptional legal representation & and the highest-quality counsel to businesses and individuals throughout Alabama.
Attorneys
Now a 25-year veteran of real estate and title insurance law, general civil litigation, business law and estate planning, Thomas J. Skinner, IV, founded our firm in 2008. Mr. Skinner brought to his own practice extensive experience in all aspects of real estate law, including real estate closings, representing the insured in real estate litigation, traditional title claims such as boundary issues, land use disputes, leases, and surface water claims. Mr. Skinner's work included defending agents and companies against fraud and negligence claims, and representing title insurance companies and associated insured parties, as well as individuals and businesses, across a broad range of real estate legal matters.
Our practice quickly expanded into real property tax sale issues and fire dues sale redemptions, working with mortgage companies, escrow servicing agents, individuals and other entities. In 2009 the fast-growing firm added Cherokee W. Wooley and Charles L. Sparks to our team of attorneys. Now a partner, Mrs. Wooley brought an added focus on title insurance law and related real estate litigation, having previously worked as an associate with King & Spalding in Atlanta in the area of Public Finance. Mr. Sparks is Of Counsel with our firm, assisting in litigation matters, but with primary practice in estate planning, probate, wills and trusts.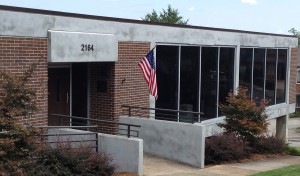 Contact Our Firm
Our offices are located in Birmingham's Historic Five Points South District, in the former Catholic Services Building. After standing vacant for more than a decade, the structure was transformed into one of the most technologically advanced law offices in Birmingham. Mr. Skinner acquired the property through his company, Lookout Mountain Land & Mineral LLC, and with the assistance of Thornton Hydinger of Hydinger, Stewart & Chew Commercial Properties, LLC, Williams Blackstock Architects, Nancy L. Jernigan Interior Design, and Rives Construction Company, transformed the structure into a premier office building in one of the city's most vibrant neighborhoods.
Office: 205.802.2545
Fax: 205.802.3901
2164 11th Avenue South
Birmingham, Alabama 35205
Please be aware that the submission of the contact form does not constitute legal or form an attorney-client relationship. The Law Offices of TJ Skinner do not agree to represent you or to take your case simply because you complete this form or email the firm. Furthermore, The Law Offices of TJ Skinner do not wish to represent anyone in a jurisdiction where this website failed to comply with all applicable laws and ethical rules.
Do not use this form to submit confidential, privileged, or sensitive information. The information submitted through this form is not privileged. As with any information submitted over the internet, there is a risk that the information below could be intercepted, viewed, or retrieved by a third party.
DISCLAIMER: No representation is made that the quality of the legal services to be performed is greater than the quality of legal services performed by other lawyers. The hiring of a lawyer is an important decision that should not be based solely upon advertisements. This website is not intended to be an advertisement or solicitation.